Summary
News
Twitter
About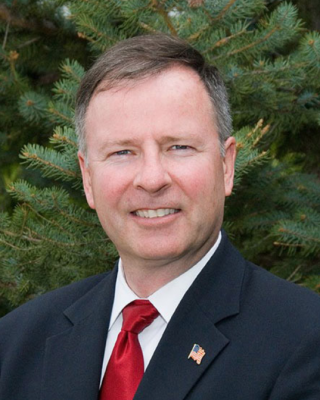 Source: Government page
Born in Leavenworth, Kansas in 1954, Doug had service-before-self instilled in him at an early age by his father, a World War II combat veteran and a corrections officer at the Leavenworth Federal Penitentiary.
After meeting his wife Jeanie, Doug graduated from the University of Kansas with a Journalism Degree (as a National Merit Scholar). As they began to raise their five children, Doug worked hard to put himself through law school, earning a law degree from the University of Kansas before moving his family to Colorado Springs, Colorado, to practice business and real estate law.
In Colorado, Doug was called to public office and served in the Colorado General Assembly from 1995 to 2006, in both the State House and State Senate. During his time in the Colorado Legislature, Doug was elected Senate President Pro-Tem, served as Chairman of the Senate State Military and Veterans Affairs Committee, Chairman of the Senate Republican Caucus, and House Majority Whip.
Doug was the lead sponsor of the largest tax cut in Colorado history. Doug also introduced legislation creating a license plate honoring Bronze Star recipients, exempting active-duty soldiers from paying state income taxes, allowing public school students to recite the Pledge of Allegiance, eliminating and reducing state services to illegal immigrants, banning late-term abortions, implementing DNA testing of convicted felons, eliminating the sales tax on telephone service, eliminating the business personal property tax for thousands of businesses, and repealing expired and outdated laws. Many of these efforts successfully became law. While serving in the part-time Colorado General Assembly, Doug continued to practice law and raise a family.
Doug was then elected to the US House of Representatives in 2006 to represent Colorado's Fifth District. Colorado's Fifth District, based in Colorado Springs, is one of our nation's most military-intensive congressional districts and the home to more than 100,000 veterans who have served our country with distinction and honor. Because of the district's military and veteran concentration, Doug serves as a high-ranking member on the House Armed Services Committee and a former member for ten years of the Veterans Affairs Committee. In these roles, he has protected important national defense funding, programs, and missions and has fought hard for the right of veterans to receive the healthcare they have earned. Additionally, the Congressman has worked since his first day in office to bring about a dignified and fitting National Veterans Cemetery to the Pikes Peak Region, which is now completed.
Additionally, Doug currently serves as the Ranking Member of the Readiness Subcommittee of the House Armed Services Committee. The Readiness Subcommittee is responsible for the single largest account with DOD's budget. It oversees military readiness, training, logistics, maintenance issues and programs, military construction, installations, and family housing issues. The subcommittee makes sure that our troops and their loved ones receive the first-class benefits they deserve. Doug also serves on the Strategic Forces subcommittee, which oversees our nation's nuclear weapons, ballistic missile defense, national security space programs, and Department of Energy national security programs, ensuring that our nation is properly prepared for any missile or nuclear attacks.
Doug also serves on the House Natural Resources Committee and its subcommittee on National Parks, Forests, and Public Lands, and the Energy and Mineral Resources subcommittee. The Subcommittee on Federal Lands is responsible for all matters related to the National Park System, U.S. Forests, public lands, and national monuments. The Energy and Mineral Resources subcommittee oversees public resources on public lands, including offshore energy development.
Throughout his time in public service, Doug has been a leader on pro-family and small business issues, a strong advocate for our veterans and our military, and a supporter of lower taxes, immigration reform, less government spending, and protection of the Second Amendment.
Doug is married to Jeanie, his wife of 45 years and an accomplished artist and former teacher at the Bemis School of Art in Colorado Springs. The Lamborn's have also raised five extremely successful children. Their four sons were Eagle Scouts and, among them, have served as a doctor, in the military, as an attorney, and as a member of the film industry in Los Angeles. Their daughter was an accomplished Division I track and field athlete and an advanced degree in creative non-fiction. Three of their children are married, and among them, they have six grandchildren.
Committees
House Committee on Natural Resources
2007 – 2021 (117th Congress)
"I am pleased to continue working on the House Committee on Natural Resources during the 117th Congress," said Congressman Doug Lamborn. "As a senior member of the House Committee on Natural Resources, I will push to end the Biden Administration's moratorium ban on new oil and gas leases and other anti-energy policies that would put Americans with high-paying jobs out of work. These burdensome policies will hurt American families with higher energy prices during a time when they are recovering from a pandemic. We should promote an all-of-the-above energy policy that ensures affordable, domestically produced energy, and security, for all Americans.
"Rep. Lamborn represents a resources-rich district, and I've had the privilege of collaborating with him on many of these issues in the past," said Ranking Member Bruce Westerman. "I'm so glad to have him on the Committee again this year, and I look forward to learning from his expertise and working with him on policy priorities that affect every American, regardless of where they live. Welcome to the team!"
Energy and Mineral Resources Subcommittee
National Parks, Forest, and Public Lands Subcommittee
House Armed Services Committee
2008 – 2021 (117th Congress)
Readiness Subcommittee (Ranking Member)
Strategic Forces Subcommittee
"Unwavering Commitment"As a member of the House Armed Services Committee Congressman Doug Lamborn has been a strong advocate on behalf of our troops. House Armed Services Committee Ranking Member Mike Rogers said this about Rep. Lamborn's work on HASC:
"Doug is a tireless fighter for our military members and their families. Between his work as Ranking Member of the Readiness Subcommittee and fighting for Colorado's Fifth District's interests, Doug is focused on our national security and those who work to keep us safe. I'm grateful for his leadership to ensure our troops have the resources and tools they need for their missions and at home."
Sponsored Legislation
Experience
Work Experience
Colorado General Assembly
1995 to 2006
Education
Personal
Birth Year: 1954
Place of Birth: Leavenworth, KS
Gender: Male
Race(s): Caucasian
Religion: Christian
Spouse: Jeanie Lamborn
Children: Eve Lamborn
Contact
Email:
Offices
Washington D.C. Office
2371 Rayburn HOB
Washington, DC 20515
Phone: (202) 225-4422
Fax: (202) 226-2638
Colorado Springs Office
1125 Kelly Johnson Blvd. Suite 330
Colorado Springs, CO 80920
Phone: (719) 520-0055
Fax: (719) 520-0840
Web
Government Page, Campaign Site, Twitter, YouTube, Facebook, Wikipedia
Politics
Source: none
Campaign Finance
Voting Record
Search
Wikipedia entry
Recent Elections
2018 US Representative
| | | |
| --- | --- | --- |
| Doug Lamborn (R) | 184,002 | 57% |
| Stephany Rose Spaulding (D) | 126,848 | 39.3% |
| Douglass Randall (L) | 11,795 | 3.7% |
| TOTAL | 322,645 | |
Source: Ballotpedia
Finances
LAMBORN, DOUGLAS L (DOUG) has run in 9 races for public office, winning 8 of them. The candidate has raised a total of $3,143,920.
Source: Follow the Money
Committees
Committees
House Committee on Armed Services
House Committee on Natural Resources
Subcommittees
Tactical Air and Land Forces
Readiness
Energy and Mineral Resources, Water, Oceans, and Wildlife
Voting Record
See: Vote Smart
New Legislation
Source: Congress.gov
Issues
Governance
We need to restore fiscal responsibility in Washington, D.C. The independent Congressional Budget Office has noted several times that our federal spending is unsustainable. I take this issue very seriously and pledge as your Representative to fight to rein in spending, prioritize funding for our military and veterans, eliminate waste, fraud, and abuse, and put entitlement programs on a sustainable path forward.
Although Social Security, Medicare, and Medicaid alone did not create our country's debt problem, they are the leading drivers of the ever-growing federal deficit. They represent an astounding two-thirds of the national budget, subsequently crowd out other spending priorities. It is vitally important that we tackle entitlement reform to ensure the fiscal solvency of these programs for future generations.
Congress must take responsibility for its fiscal policy decisions. Too often, meaningful reforms addressing our government's addiction to spending are pushed to the back burner. I'm working to change that. Rising debt hurts our economy. I want budgets that are fiscally responsible, that gets government out of the way of businesses, families and economic growth. If families across our state have to balance their budgets, the federal government should too. It's also not fair to our future generations to be burdened reckless spending that takes place now. . I'm committed to responsible budget reforms. Let's make the budget something we can all be proud of.
Major Budget Legislation
FY 2018 Budget: Building a Better America
I am proud to have worked with President Trump and my colleagues in the House to help pass the House FY 2018 budget. The Building a Better America budget balances the federal budget within 10 years and puts our government back on a path toward fiscal responsibility – and it does so without raising taxes or imposing crippling austerity measures on the American people. The national debt is already an impediment to greater economic growth and prosperity, and it is ultimately a threat to the financial security of future generations. For our government to continue to mortgage the prosperity of future generations to satisfy an addiction to deficit spending is not only fiscally irresponsible – it is morally wrong. That's why I'm proud to have supported this budget, which significantly reduces spending and reforms government programs to put us on a sustainable fiscal path.
Balancing the Budget
Building a Better America balances the budget within 10 years by cutting spending, reforming government, and stimulating the economy. This budget achieves $6.5 trillion in total deficit reduction over 10 years and produces a $9 billion surplus in fiscal year 2027.
Promoting Economic Growth
For the past eight years, the federal government has stifled economic growth. This budget outlines the steps necessary to reverse this trend, prescribing a combination of pro-growth policies including deficit reduction, spending restraint, comprehensive tax reform, welfare reform, health care reform, and regulatory reform to move our federal government away from its Obama-era addiction to wasting the money you work hard to earn. Together, these significant reforms will promote more robust growth over the longer term.
Ensuring a Strong National Defense
As Representative of Colorado's 5th Congressional District – a district with one of the highest concentrations of veterans in the United States and numerous active military installations– I understand that defending America's security is the highest priority of the federal government. To that end, I am proud to support this budget because it has robust funding for troop training, equipment, compensation, and improved readiness.
Restoring the Proper Role of State and Local Governments
Building a Better America encourages the innovation and creativity of state and local governments. It calls for returning significant authority to the states, which possess not only the ability but also the will to reform and modernize programs that serve their citizens. Our Founding Fathers never intended the federal government to impose one-size-fits-all "solutions" to the states – they understood that the states, functioning as laboratories of democracy, not the federal government, are where these reforms should happen.
Reforming Government Programs While Improving Accountability
As your representative, I am well aware that every tax dollar collected by the federal government was taken, not earned, from real people working real jobs in the private sector. That's why it's important for  Congress to act as responsible stewards of taxpayer dollars – and that's why at every opportunity Building a Better America reforms government programs and improves accountability, generating better outcomes for Americans.
For additional on the Building a Better America budget:
https://budget.house.gov/budgets/fy18/
When I was sworn in as a Member of Congress, I took an oath to "support and defend the Constitution of the United States against all enemies, foreign and domestic."
Many of the threats to our Constitutional liberties today don't necessarily come from foreign enemies–they come from within our own nation. Threats to our freedoms stem from judicial activists that interpret the Constitution according to a progressive agenda, an Executive branch that makes laws and recklessly spends money, or even a legislature that forfeits its power of the purse to federal agencies.
I vow to stand with my colleagues in the House of Representatives to restore a Constitutional balance of power so that the government empowers you, the American people.
Major Constitutional Legislation
H.R. 4768 – Separation of Powers Restoration Act
The Separation of Powers Restoration Act (SOPRA) scales back the Chevron deference. I cosponsored this legislation that would free courts from the interpretations of federal agencies enforcing a statue. SOPRA restores the separation of powers by requiring de novo review of agency action for all relevant questions of law, including Constitutional and statutory interpretation. (Read my statement on H.R. 4768.)
H.R. 4956 – End Executive Overreach Act
This bill blocks the use of federal funds for any future executive orders through January 21, 20170–the end of President Obama's term. It also prohibits federal agencies from making new rules that would cost over $100 million or rules that would need to be reviewed by the Office of Information and Regulatory Affairs. I am a proud cosponsor of this bill that returns the power of the purse to Congress, the branch of government closest to the will of the people. (Read my statement on H.R. 4956.)
H.R. 5063 – Stop Settlement Slush Funds Act
This bill puts an end to the Department of Justice's funding of activist groups. In the past, the Executive Branch has abused its power by directing settlement money from lawsuits to activist groups instead of the victims themselves. H.R. 5063 explicitly prohibits this practice and ensures that victims receive the full compensation they are entitled under the law. (Read my statement on H.R. 5063.)
H.R. 5226 – Regulatory Integrity Act of 2016
This important piece of legislation will make the federal government more open, transparent, and accountable to the American people. H.R. 5226 instructs all federal agencies to publicly release information about their regulatory actions in a format that is searchable online. With this law enacted, people will be able to read and examine every rule change by the Administration without closed doors or secret negotiations.
To read more about how Republicans in Congress plan to uphold the Constitution, read through the #BetterWay agenda online.  
Civil Rights
As a United States Representative, I took an oath of office to "support and defend" the Constitution—including the Second Amendment. I believe that the right to bear arms is one of our nation's most fundamental and vital protections. The Second Amendment rights of Americans are non-negotiable and are not open to infringement.
I am unwavering in my support for the right to keep and bear arms. There is no clause restricting or qualifying this right, or limiting it to merely target practice and hunting. The right to defend one's self and one's family applies to every American. Please know that I will continue to defend this fundamental constitutional right for you and your families.
Unfortunately, during the last administration President Obama used executive orders to restrict law abiding citizens' access to firearms. The unilateral actions taken by the Obama Administration sought to undermine the rights afforded to all Americans in favor of his liberal agenda. Instead of developing a coherent strategy to keep the American people safe from attacks by criminals and terrorists, the actions proposed by President Obama did little to make us safer and only inhibited the efforts of Americans to exercise their Second Amendment rights.
I believe that we should vigorously enforce the more than 240 pages of existing federal gun regulations and work to strengthen our nation's mental health system to provide families and patients access to the care they need. But we must ensure that actions taken to reduce violence are targeted, address underlying causes, and do not infringe upon our Second Amendment rights.
Major Actions on Second Amendment Rights
As an NDAA Conferee, I added provisions allowing for military members to carry firearms for personal protection on military bases.
I sent letters to Appropriations Committee members to defund the UN Arms Trade Treaty (ATT) and to prevent the use of the ATT for domestic prosecutions. In addition to these Second Amendment concerns, the ATT also poses threats to our domestic defense manufacturing base and our ability to defend our allies such as Taiwan and the State of Israel.
I fought the Obama Administration's attempt to ban .223 M855 "green tip" ammunition.
H.R. 2406 the Sportsmen's Heritage and Recreational Enhancement (SHARE) Act
I supported this compilation of several bills that expand access to, and opportunities for, hunting, fishing, and recreational shooting. For more information on the SHARE Act, read the original press release.
H.R. 578, the Recreational Lands Self-Defense Act.
Currently, legislation passed into law allows individuals to possess an assembled or functional firearm in any unit of the National Park Service or National Wildlife Refuge System, but not on any Army Corps of Engineers' land.  H.R. 578 would prohibit the Secretary of the Army from enforcing any regulation that keeps an individual from possessing firearms on Army Corps Water Resource Development project if the individual is not otherwise prohibited by law from possessing the firearm or if the possession of the firearm is in compliance with the law of the state in which the project is located.
H.R. 1413, the Firearm Manufacturers and Dealers Protection Act of 2015.
Under Operation Choke Point, the Federal Deposit Insurance Corporation (FDIC) and Department of Justice permitted Attorney General Eric Holder the means to cripple firearms and ammunition manufacturers by placing immense regulatory pressure on the financial institutions they do business with. H.R. 1413 would entirely defund any activities associated with Operation Choke Point and forbid the U.S. Attorney General from restarting a similar program.
H.R. 766, the Financial Institution Customer Protection Act
This bill prohibits federal financial regulators from using subpoena powers to intimidate local banks from working with gun businesses.
Sponsored and Cosponsored Second Amendment Legislation
H.R. 4319 – Second Amendment Defense Act of 2016
H.R. 4321 – Separation of Powers Restoration and Second Amendment Protection Act
H.R. 2710 – Lawful Purpose and Self Defense Act
H.R. 2753 – Fairness in Firearm Testing Act
H.R. 2611 – Collectible Firearms Protection Act
H.R. 1739 – FIREARM Act
H.R. 3802 – Alternative Ammunition Manufacturing Act
Economy
Tax reform will undoubtedly boost the economy, create jobs, and lower taxes. Americans will keep more hard-earned money in their pocket. The standard deduction will double, meaning the tax bracket the federal government does not tax will expand to $12,000 for single filers and $24,000 for married couples. The Child Tax Credit will double from $1,000 to $2,000. All of this means that if you're saving up your money for an investment or even savings you will now have the money to make that payment. The average family is going to see less money coming out of their paychecks to pay taxes.
Rep. Lamborn advocated for several measures throughout the bill's process that will help ease the burden of taxes for many classes of people. He signed a letter to Ways and Means Chairman Kevin Brady and Speaker of the House Paul Ryan requesting the Adoption Tax Credit remain in the bill. The credit makes it easier for families who choose to adopt. At one point in the bill's development, a tax on graduate school tuition waivers was suggested. Rep. Lamborn agreed with his colleagues in a letter to Republican leadership that taxing graduate students, who already operate on a low budget, should not be permissible.
The Obamacare individual mandate is eliminated with this bill. The mandate made it illegal for people not to purchase government-approved health care. If you choose not to participate, the government majorly taxes you. With the newly-improved tax code, those with a low-income, usually the ones who could not afford health insurance, will no longer be punished with more taxes.
The Arctic National Wildlife Refuge in Alaska is abundant in oil reserves. Special interests banned the area for energy development, which goes against the petitions of the Alaska delegation. This natural resource has the potential to bring thousands of jobs and thte tax bill opens that up. For the American economy as a whole, this means a major boost thanks to massive energy development.
Rep. Lamborn issued this statement after voting for the passage of the bill:
"Congress listened to the American people and simplified our complicated tax code. This is a historic day for our country. Moving forward we can expect bigger paychecks and filing taxes will be as easy as sending a postcard. The middle and lower classes, for the first time in decades, will see more of their hard-earned money staying in their bank accounts. I'm looking forward to seeing the boom Colorado's economy will experience. More jobs will be created, which means more opportunities for our region's small business to expand, hire more workers, and invest."
The best way to get American families and businesses moving again is to allow them to keep more of their income. To give power back to the people, Congress should support across-the-board tax cuts. These cuts should be broad-based so that Washington isn't picking the winners and losers, and they must be permanent so businesses can actually plan and invest.
The Administration and Congress should also act to remove the regulatory barriers to energy production and should streamline the existing permitting process.  Increased domestic energy production from all sources (including oil, natural gas, oil shale, nuclear, and renewables such as hydropower) will without a doubt lower energy costs, reduce our reliance on foreign energy, and create new jobs.
The threat of increased taxes, new government regulation, and costly government mandates are a significant threat to any employer who is trying to decide whether they can afford to expand. Since taking office, the Obama Administration has had under consideration over 100 regulations that are deemed economically significant, meaning they have an impact on the economy in excess of $100 million. Many of these rules will directly impact and burden businesses of various sizes. My priority is to push back against these regulations and create a vibrant market where businesses and individuals can thrive.
Sponsored and Cosponsored Legislation
H.R. 3459 – Protecting Local Business Opportunity Act
H.R. 3472 – Adjusting Davis-Bacon for Inflation Act
H.R. 985 – Concrete Masonry Products Research, Education, and Promotion Act of 2015
H.R. 3421 – A PLUS Act
H.R. 2331 – No Welfare for Weed Act of 2015
H.R. 612 – National Right-to-Work Act
H.R. 662 – Traditional Cigar Manufacturing and Small Business Jobs Preservation Act of 2015
H.R. 287 – American Job Creation and Strategic Alliances LNG Act
H.R. 30 – Save American Workers Act of 2015
Education
I am deeply concerned by the deterioration of our nation's public school system. Many of our children receive low-quality education that undermines their potential and threatens our society. I believe our policies should enable parents and local school districts to choose school programs and curriculum that best fit students' needs.
The federal government's well-intentioned efforts to regulate our nation's public schools have contributed to problems within our educational system. Our great country is too large and too diverse for a one-size-fits-all approach to education. We must limit the role of the federal government in our classrooms to allow parents and teachers to act in students' best interest. I also believe we should distribute federal spending in block grants with few or no strings attached.
We can also give parents and students more freedom in their educational choices by allowing alternatives—such as school vouchers, charter schools, on-line education, home schooling, and education savings accounts. A refundable tax credit, equal to the cost of educating a child in a public school, should be given to parents who opt for these alternative programs that cost nothing to the public school system. The increased competition with public schools would also incentivize progress and improvement. I oppose any attempts by unions to limit education choices through unfair regulations.
Major Education Legislation:
H.R. 5 Student Success Act
I voted in strong support of this bill that replaces the failed standards of No Child Left Behind with localized, state-led systems. This legislation frees K–12 education from Common Core curriculum, reauthorizes the Elementary and Secondary Education Act (ESEA), and funds programs for disadvantaged students and Title I schools. Parents, educators, and individual school districts will be empowered under H.R. 5 to control their own path and ensure that students have the opportunities they need to succeed.
Cosponsored Education Legislation:
H.R. 3421 – A PLUS Act
I cosponsored this bill that would allow more financial freedom for individual states. This legislation, supported by the Heritage Foundation, would allow states to combine certain funds in order to improve students' academic achievement.
H.R. 1089 – Native American Indian Education Act
This legislation fulfills our nation's promise to provide affordable higher education to Native Americans. H.R. 1089 instructs the Department of Education to reimburse educational institutions for tuition costs of Native American students.
H.R. 5275 – PUBLIC School Act of 2016
H.R. 6433 – Protect the Flag Act
Environment
American energy is the fuel that drives our economy and our way of life. That is why I support a free-market, all-of-the-above approach to harness our vast natural resources and keep prices low for American families. Preserving the freedom of every American to pursue happiness through energy production means more jobs, lower gas prices and cheaper home electric bills. By opening more areas for production, rolling back creativity-stifling regulations and reforming our tax code, the federal government can expand the energy renaissance we are already seeing on private lands to public lands across our entire economy. Most importantly, when Americans are free to dream and innovate, they will always find safer, cleaner, cheaper, and more efficient ways to produce and use energy.
In addition to its economic importance, energy is also a national security concern. Energy powers our military domestically and internationally, and we need to ensure that we safeguard energy production to secure our national interest.
As Chairman of the House Natural Resources Committee's Subcommittee on Water, Power, and Oceans, I have worked to pass legislation designed to create the best possible climate for new jobs, lower energy prices, and open up access to responsible energy development on public lands. I have also used this platform, on numerous occasions, to hold administration officials accountable through public hearings, demands for documents, and by issuing subpoenas.
Please visit the Water, Power, and Oceans Subcommittee page for more information about my committee involvement.
Major Energy Legislation
H.R. 594 – Waters of the United States Regulatory Overreach Protection Act of 2015
I was pleased to cosponsor this important legislation to fight back against the Obama Administration's regulatory overreach. The Waters of the United States (WOTUS) rule expands federal jurisdiction and inserts the federal government into every stream, pond, and ditch in America—even on private property. WOTUS threatens to take away the rights of property owners, kills economic growth, and harms local communities' ability to regulate their own water use.
Overriding WOTUS would end this regulatory overreach, preserve Congress' right to determine the scope of the Clean Water Act, and maintain the successful federal-state partnership to regulate the Nation's waters. I maintain that states should control the right to regulate their own waters, and I will continue to support efforts to override the president's veto.
H.R. 1644 – STREAM Act
I am pleased to join with my colleague from West Virginia to introduce the Supporting Transparent Regulatory and Environmental Actions in Mining or STREAM Act. This legislation would stop the Interior Department's Office of Surface Management (OSM) from finalizing its 1,200 plus page politically motivated job-killing "Stream Protection rule" that is designed to cripple the coal industry. The OSM would be prohibited from interpreting existing laws to establish new standards and procedures outside of their explicit jurisdiction.
Comprehensive Mining Legislation
In response to the EPA's failed treatment of the Aminas River spill in 2015, my colleagues and I introduced a series of three bills to help prevent future disasters.
H.R. 3843 – Locatable Minerals Claim Location and Maintenance Fees Act
I was pleased to introduce this legislation to incentivize private sector cleanup of abandoned mine lands. My bill also provides "Good Samaritan" permits for industries and non-profit organizations.
H.R. 3844 – Energy and Minerals Reclamation Foundation Establishment Act
This bill establishes a foundation that can raise funds from individuals and organizations concerned about the environmental risks of cleaning mine lands.
H.R. 3734 – Mining Schools Enhancement Act
The final bill in the package invests in the next generation of mining engineers. Through research grants and added funding for accredited mining schools, this bill will provide technical expertise that agencies and private industries need to be environmentally responsible.
For in-depth description of the 2015 mining legislation, read my op-ed in the Denver Post.
Sponsored and Cosponsored Energy Legislation
H.R. 161 – Natural Gas Pipeline Permitting Reform Act
H.R. 287 – American Job Creation and Strategic Alliances LNG Act
H.R. 703 – Renewable Fuel Standard Elimination Act
H.R. 3880 – Stopping EPA Overreach Act of 2015
H.R. 2042 – Ratepayer Protection Act of 2015
H.R. 1869 – Environmental Compliance Cost Transparency Act of 2015
H.R. 1830 – Water Rights Protection Act
H.R. 1937 – National Strategic and Critical Minerals Production Act of 2015
Health Care
Whether you are a small business owner, an employee, or a parent, the quality and cost of your healthcare influence your quality of life. Since Obamacare ushered in a government takeover of our healthcare system representing one-sixth of our economy, I have heard from many of you about your struggles with Obamacare. The ill-fated law isn't working for you. In fact, it feels like Obamacare is working against you by increasing your premiums, raising your taxes, and slowing job creation.
Most importantly, Obamacare has taken away your ability to choose and control your healthcare plan by replacing individual choice with top-down mandates. Patients and their doctors should drive our healthcare system—not bureaucrats far removed from the consequences of their decisions.
Repealing and Replacing Obamacare
I want to assure you that I am on the front lines of the fight to defeat this disastrous law. But I don't only want to repeal Obamacare—I want to replace it with an affordable, patient-centered alternative. I believe any effort to replace Obamacare should:
Encourage competition in the marketplace to reduce healthcare costs
Allow families to deduct healthcare costs from their taxable income
Create common-sense medical malpractice reform
Expand access to health savings accounts
Safeguard individuals with pre-existing conditions
Prohibit taxpayer money from paying for abortions
To this end, I have cosponsored the following legislation:
H.R. 2300 – Empowering Patients First Act of 2015
This bill repeals the Patient Protection and Affordable Care Act and provides for refundable tax credits for health insurance coverage. It also and health savings account (HSA) contributions and raises the annual HSA contribution limit, expands eligibility for tax-deductible contributions, and allows HSAs to be used to pay periodic or capitated primary care fees.
H.R. 1547 – Family Health Care Flexibility Act
This bill to repeal provisions added by Obamacare that restrict payments from health savings accounts and other similar accounts to pay for prescription drugs.
H.R. 928
This bill repeals a provision of the Patient Protection and Affordable Care Act that imposes an annual fee on a health insurance provider based on its net premium income.
H.R. 596
H.R. 596 repeals in full the Patient Protection and Affordable Care Act and all healthcare-related provisions in the Health Care and Education Reconciliation Act of 2010 180 days after the bill's enactment.
Maintaining Affordable Healthcare for Seniors
Medicare was designed to provide healthcare coverage for those who truly depend upon it. Our seniors deserve sensible Medicare reforms that empower patients and provide affordable healthcare coverage—not reduce coverage. I was pleased to cosponsor the following bills that focus on seniors' needs:
H.R. 1190 – Protecting Seniors' Access to Medicare Act 
I supported this bill that would repeal the Independent Payment Advisory Board provisions within Obamacare. Specifically, this bill would prohibit IPAB from raising premiums, rationing access to care, or taking any other actions that restrict Medicare benefits or eligibility.
H.R. 1650 – Medicare Patient Empowerment Act
This bill would allow any Medicare beneficiary to receive care from participating and non-participating physicians for any services covered by Medicare.
Sponsored and Cosponsored Healthcare Legislation
H.R. 4262 – Transparency and Accountability of Failed Exchanges Act
H.R. 4185 – PACT Act ­­­
H.R. 1453 – Ambulatory Surgical Center Quality and Access Act
H.R. 2652 – Protecting Patients and Physicians Against Coding Act
H.R. 2653 – American Healthcare Reform Act
H.R. 2400 – SIGMA Act
H.R. 2061 – EACH Act
H.R. 1234 – Medical Freedom Act
H.R. 1220 – Removing Barriers to Colorectal Cancer Screening Act
H.R. 940 – Health Care Conscience Rights Act
H.R. 793 – Ensuring Seniors Access to Local Pharmacies Act
H.R. 921 – Sports Medicine Licensure Clarity Act
Immigration
The United States is a nation formed on the rule of law. Each year, however, hundreds of thousands of aliens deliberately violate our nation's laws by unlawfully crossing U.S. borders. Today, there are an estimated 12 million illegal immigrants currently residing in the United States.
The consequences of illegal immigration are far-reaching:
Illegal immigration causes an enormous drain on public funds. Accommodating the needs of endless numbers of poor, unskilled illegal entrants undermines the quality of education, healthcare and other services for Americans.
American workers must compete against job-desperate illegal immigrants, unfairly depressing the wages and working conditions offered to legal residents.
Illegal immigration overwhelms communities by crowding classrooms, consuming already limited affordable housing, and increasing the strain on precious natural resources.
Illegal Immigration compromises our nation's security, allowing potential terrorists to hide in the same shadows.
Standing with President Trump
President Trump is right—we need to build a wall. But controlling illegal immigration will require a full range of enforcement measures that go far beyond the border. That's why I support comprehensive efforts to end illegal immigration, and that's why, as your representative in Congress, I will continue to push Congress to implement the three major components of immigration control: deterrence, apprehension, and removal.
Deterrence
President Obama's reckless immigration policies and unlawful executive amnesty orders have led to a staggering increase of 2.5 million illegal immigrants nationwide. The American people understand what a dangerous precedent this is – that's why I have consistently voted to use Congress's constitutional power of the purse to put an end to the previous administration's failed policies. Today, with a President in the White House who appreciates American sovereignty, it is more important than ever for Congress to write legislation eliminating any and all incentives to come into our country illegally.
Sponsored and Cosponsored Legislation
H.R.3004 – Kate's Law
Also called "Kate's Law," this important piece of legislation builds on the foundation of H.R. 2942 and creates harsher penalties for illegal immigrants who unlawfully enter the United States after being deported. This law takes the name of Kate Steinle, a 32-year-old woman who died in San Francisco at the hands of an illegal immigrant who had previously been arrested and deported and then returned to commit criminal acts again.
Over the past 20 years, Colorado taxpayers have spent more than $522 million to imprison illegal immigrants convicted of crimes, according to CBS Denver. The United States must make it crystal clear that those who are in our country illegally and choose to buy or sell illegal drugs, abuse a spouse or family member, drink and drive, or commit a litany of other crimes will not be treated lightly. That's why I've been such a fierce advocate for Kate's Law – because Colorado residents simply cannot afford to pay the price of Washington's continued inaction in securing our borders and keeping our families safe.
H.R.2581 – Verify First Act
HR 2581, the Verify First Act, withholds Affordable Care Act subsidies from people until their citizenship is verified.
Apprehension
Previous administration policies and hold outs in the current administration are preventing authorities from doing their jobs. Detaining and deporting most illegal aliens remains a low priority of federal immigration authorities, who are resource-limited and forced to focus their efforts on targeting those with criminal convictions or on those who constitute a threat to the national security. The status quo is simply unacceptable – Congress must take action to secure our borders and stop illegal immigration.
Sponsored and Cosponsored Immigration Legislation
H.R.3003 – No Sanctuary for Criminals Act
HR 3003, the No Sanctuary for Criminals Act, targets states and localities that have "sanctuary" laws on immigration.
Denver and Aurora want to welcome you to your new neighbors: the tens of thousands of criminal illegal aliens who, despite having been detained for other crimes, are offered "sanctuary" in direct contradiction of federal law and the constitutional prerogative of the federal government to dictate immigration policy. If you live in Colorado Springs, just a quick drive up Interstate 25, you deserve sanctuary: sanctuary from criminals who drink and drive, buy or sell illicit drugs, commit rape, murder, and a litany of other crimes. The No Sanctuary for Criminals Act will force sanctuary states and cities across our nation to follow the law, making Colorado safer for all law abiding legal residents.
Removal
I oppose any measure granting Amnesty to those here illegally. Citizenship should be given only to those who treasure the United States and who have upheld American law and the United States Constitution.
Sponsored and Cosponsored Legislation
H.R. 3697 – Criminal Alien Gang Member Removal Act
This bill gives government more power to deport and deny admission to immigrants suspected of being in gangs.
Infrastructure
Transportation, like water, is an important priority in a region with high growth like ours. It is important that we concentrate on maintaining safe roads and highways in a manner that reflects our growing needs.
I will be fighting for the best return on Colorado's federal investment. Currently only 92 cents of every federal gas tax dollar returns to Colorado. I would like to see 100% parity, so that every tax penny paid by Coloradans at the pump is returned to them.
While clean air is extremely important, environmental goals must be balanced with economic progress and the quality of life gained through constructing highway projects that relieve traffic congestion.
Sponsored and Cosponsored Transportation Legislation
H.R. 1084 – 21st Century SCASDP Act
Veterans
The unparalleled freedoms and liberties that we enjoy as Americans have propelled our nation to prosperity and contributed to the values that make America great. However, these freedoms and liberties wouldn't exist if it were not for our brave veterans. Those who have served our nation – many paying the highest cost – are the epitome of honor, strength, and valor.
I work hard to support meaningful and effective legislation and vote in a way that will benefit the Fifth Congressional District of Colorado, especially when it pertains to active duty military members and veterans who call our district home. I understand the importance of maintaining a strong national defense and providing support for the men and women who have bravely served our country with honor. Colorado's Fifth District is home to the highest number of veterans in any congressional district in our nation.
I have fought to ensure that our military remains strong and that our veterans receive proper care as your representative in Congress. While the Department of Defense was making drastic cuts to troop numbers nationwide, I fought to minimize those cuts and maintain a strong troop enlistment at Fort Carson Army Base. That effort resulted in a relatively small cut of only 365 soldiers (out of 23,349 soldiers stationed there).
I will continue to work to ensure that veterans receive proper care by sponsoring and supporting legislation to reform the VA and to ensure that veterans receive the benefits and the quality of care they have earned. The Veterans Empowerment Act is my most recent move to provide Veterans with the choice to determine their individual health care providers.
Sponsored and Cosponsored Veterans Legislation
H.R. 4457 – Veterans Empowerment Act
The Veterans Empowerment Act comes in the wake of systemic issues in VA programs widely documented since the 2014 nationwide scandal. An Inspector General report highlighted the falsified patient wait times at the Colorado VA for veterans with Post Traumatic Stress. The legislation would give veterans options similar to the highly-successful Tricare Standard program long in use by the active duty military community.
Our veterans deserve the highest degree of care. Giving them options to choose their healthcare plans and doctors is empowering. This bill means veterans, especially those with extreme disabilities, can expect to have their needs taken care of quickly and efficiently. Its good policy and makes sense.
This bill throws out the idea of acceptable patient wait times and eliminates the requirement of the veteran to ask for VA permission to use civilian medical providers. It gives veterans full authority to use the existing VA system or not.
Pikes Peak National Veterans Cemetery
The first bill I introduced when I came to Washington was a bill to establish a Veterans National Cemetery in Southern Colorado. Working across the aisle with Members of both parties, we are making significant progress on this vital project.
I'm pleased to report that the full year Military Construction and Veterans Affairs Appropriations bill was included in the Continuing Resolution that was signed into law by the President at the end of September. As a result, the Pikes Peak National Veterans Cemetery will receive the full $36 million in funding necessary to complete the cemetery's construction. Our veterans and their families have waited many years for this, and it is gratifying to see progress being made. I thank all the veterans in our district who have worked tirelessly on this over the years. For more information about the Pikes Peak National Veterans Cemetery, see my Veterans Cemetery Information page.
H.R.5392 – No Veterans Crisis Line Call Should Go Unanswered Act
I advocated for and helped pass H.R. 5392, the No Veterans Crisis Line Call Should Go Unanswered Act. This bill was developed in response to reports that phone calls to the crisis lines at the VA were going to voicemail because of employee mismanagement. This treatment of veterans is outrageous and completely unacceptable. H.R. 5392 would require the VA to develop a plan to ensure that each telephone call and text message is answered in a timely manner by an appropriately qualified, live person.
H.R.3216 – VET Act
I voted in strong support of H.R. 3216, the VET Act. This act was developed after the VA refused to help transfer a veteran suffering from a broken foot to a VA emergency room. Amazingly, the VA hospital officials told the veteran to call 911. The bill is designed to clarify and strengthen the VA's obligation to provide appropriate emergency care for veterans and prohibit VA from transferring a medically unstable veteran unless the veteran makes a written request to be transferred or it is clinically necessary. H.R.5162 – Vet Connect Act
I supported H.R. 5162, the Vet Connect Act. This bill would require the VA to share medical record information with community providers in order to provide care or treatment to a shared patient. This type of collaboration is much needed and will benefit many veterans.
Southern Colorado VA Community-Based Outpatient Clinic
I am fighting for this super clinic with expanded services because I know our veterans need it. This clinic will make world-class medical care more easily accessible to veterans throughout the Pikes Peak region.
This new clinic is further evidence that the Veterans Administration recognizes their growing numbers and is committed to providing them the best medical care.
The 76,000-square foot facility is more than double the space in the current two clinics that are being replaced by the new "super" clinic. The replacement clinic will provide primary care, mental health, specialty care, and ancillary diagnostic service for veterans in the eastern Rockies area.
World War I Centennial Silver Dollar
"Next year will be the 100th anniversary of the signing of the armistice with Germany, marking the end of battlefield hostilities in World War I. During the war, more than 4 million men and women from the United States served in uniform, and more than 100,000 gave their lives."
"To honor their service and sacrifices, Congress created the World War I Centennial Commission 
in 2013.  The Commission was tasked with planning and executing activities to commemorate the centennial of World War I through the use of private donations and coin sales."
"While other great conflicts, including the Civil War, World War II, the Korean War, and the Vietnam War, have all been memorialized on United States commemorative coins, there currently exists no coin to honor the brave veterans of World War I.  That is why I introduced the bill that allowed us to honor the memory, service, and sacrifices of the brave veterans of World War I, while also providing the means to pay tribute to the end of World War I battlefield hostilities.  Along with my colleagues in the House and Senate, including Rep Emmanuel Cleaver of Missouri, and Senators Roy Blunt and Claire McCaskill of Missouri, we authorized the World War I Centennial Silver Dollar in 2014."
"The $10 surcharge collected on the sale of this historic coin will assist the World War I Centennial Commission in commemorating the centenary of World War I, which includes building the new national World War I memorial in Washington D.C.  Each coin is its own commemoration of our veteran's sacrifice during the war, but the funds raised will build this new lasting memorial for all visitors to enjoy.  I had the opportunity to attend the groundbreaking event a few weeks ago at Pershing Park and see the new site.  When complete, the memorial will pay a fitting tribute to our heroes." 
Dedication of the Pikes Peak National Cemetery
The latest milestone in the long lived dream of the Pikes Peak National Cemetery is its dedication in May 2018 and burials available this fall.  This solemn ceremony brought the community together to dedicate this land as the final resting place of our beloved veterans.
Congressman Lamborn said during his remarks, "This tranquil place, with Cheyenne Mountain and Pikes Peak eternally standing sentinel over the graves, will serve as a peaceful monument to the service Pikes Peak region veterans have provided their fellow citizens.  Their loved ones will be able to visit this magnificent place and remember the time they spent together on this earth, while men and women of future generations might look upon it as a reminder of the price of liberty and be grateful."
Grant Secured for the Pikes Peak National Cemetery
Congressman Lamborn is pleased to announce a milestone in construction of the Pikes Peak National Cemetery in Colorado Springs. The national cemetery is located at 10545 Drennan Road, Colorado Springs, CO 80925.
The Department of Veterans Affairs awarded a $31 Million construction contract to a developer with a Fall 2019 completion date.
The project has been a high priority for the Congressman and the contract is the next step in honoring the service of Colorado veterans.  Colorado Veterans have worked toward this achievement for more than 20 years and the Congressman's work on the House Committee on Veterans Affairs secured proper procedures and funding to make the effort a reality.
The Department of Veterans Affairs awarded G&C Fab-Con, LLC, a Service Disabled Veteran-Owned Small Business from Flemington, NJ the $31.8 million contract. Over 13,000 new burial spaces will be available in 2019 and later development will accommodate an estimated 95,000 total spaces. The Colorado Springs community and the entire Colorado veteran community will greatly benefit from the project.
"I'll continue to work with the VA to ensure the Pikes Peak National Cemetery is completed on time for veterans in our community.  Our region is home to 80 percent of the state's veterans and Colorado has the highest percentage of veterans in the nation.  We're long overdue for a local cemetery to honor our veterans and provide a final resting place to America's heroes." – Congressman Doug Lamborn (CO-05)
Please find a fact sheet about the cemetery here.
Pikes Peak National Cemetery Progress
$31 Million Awarded 9/20/2017
$31 Million Awarded to Start Construction on Veterans' Cemetery. Read the press release here
Veterans Funding 9/29/2016
Lamborn Supports CR to Prioritize Funding for Military and Veterans. Read the press release here
Gazette Article 5/5/2016
Gazette Article on the Pikes Peak National Cemetery. Read the press release here
Naming Ceremony 5/2/2016
Naming Ceremony For New National Veterans Cemetery. Read the press release here
Gazette Headline 4/7/2016
Gazette Headline: Cemetery Cash In Budget. Read the press release here
VA Advisory Board 3/12/2016
Rep. Lamborn met with his Veterans Advisory Board at the new Colorado Springs VA Clinic. Read the press release here
VA land purchase 1/21/2015
VA completed final purchase of 374 acres of land in Colorado Springs, CO known as the Rolling Hills Ranch. The site is located east of Colorado Springs near the intersection of Bradley and South Meridian Roads. Read the press release here
HASC and VA 25/1/2011
Congressman Doug Lamborn was seated for a third term on both the House Armed Services Committee and the House Committee on Veterans' Affairs.
H.R. 3219 10/13/2010
H.R. 3219 becomes law (P.L. 111-275), authorizing a national veterans' cemetery in southern Colorado. (Passed the House July 27, 2009; Passed the Senate September 28, 2010).
Funding Request 2/1/2010
The Veterans Administration requests funding for a Southern Colorado VA National Cemetery.
Bill Sent To Committee 6/30/2009
The House VA Subcommittee Sends National Veterans Cemetery Bill For Southern Colorado To Full Committee. Read the press release here
Lamborn introduces bill 1/5/2007
Lamborn introduced H.R. 295, a bill directing the Secretary of Veteran's Affairs to establish a national veterans' cemetery in the Pike's Peak region. Read the press release her
Pro Life
Congressman Lamborn's legislative record reflects his unwavering dedication to protecting the sanctity of human life from conception to natural death, the terminally ill, and all whose lives are threatened by physician assisted suicide.  Congressman Lamborn has consistently sponsored or cosponsored pro-life bills since his election to Congress.  He strongly believes human life begins at fertilization.  Every human life has inherent value and dignity regardless of stage of development, race, age, gender, or ability.
To further his efforts to protect our core conservative family values, Congressman Lamborn is an active member of the Republican Study Committee, a Congressional organization committed to conservative principles in government.
Additionally, Congressman Lamborn is an active member of the Values Action Team and the Pro-Life Caucus. Through these organizations he legislatively promotes the protection of life, advances pro-family tax bills (such as marriage tax penalty relief, death tax elimination, education savings accounts, adoption tax credit, parent tax credit), fights to improve our education system through school choice, advocates prohibition of internet child pornography, and seeks harsher penalties for child predators.
Consistently Protecting the Unborn:
In the U.S. House of Representatives:
Congressman Lamborn is a loud and active voice within the House to protect the unborn. In the last year alone, the Congressman has cosponsored and voted for 10 pro-life legislations in the House. Three recent cosponsorships include the Dismemberment Abortion Ban Act, the No Abortion Bonds Act, and the Born-Alive Abortion Survivors Protection Act. These pieces of legislation serve to protect the unborn, close loopholes, and stop taxpayer money from going to abortion performing entities.
Congressman Lamborn's Support in the Senate:
In a proactive approach, Congressman Lamborn authored a letter supported by 69 House Colleagues, to key Senate leadership successfully urging them to prioritize pro-life protections in any health care legislation they pass. This letter proves the personal responsibility the Congressman feels to protecting the unborn.
READ: Denver Post Article: "Doug Lamborn, in letter to Senate GOP leaders, asks that "pro-life priorities" be included in health care bill
The Congressman's Work with the White House:
The Congressman constantly advocates for the protection of unborn lives, and tirelessly works to ensure that all avenues are explored.  Thanks to letters by the Congressman and his fellow Members, the Trump Administration has announced proposed regulations regarding the Title X Family Planning funding stream.  These proposed regulations will ensure that funding for family planning services does not decrease, but that there is now a clear physical and financial separation between Title X recipients and abortion providers. Title X rules will now require the grantees to "comply with all state and local laws requiring notification or reporting of child abuse, child molestation, sexual abuse, rape, incest, intimate partner violence, or human trafficking."  As a result of these changes, Title X rules will ensure that taxpayer money goes to family planning centers that are not in the abortion business.
Rep. Lamborn Rallies Outside the Supreme Court:
The Congressman believes a fundamental role in protecting the lives of the unborn is preserving the freedom of pregnancy medical centers.  These centers work to serve the babies, women, and families in our communities, and serve as a beacon of hope to those women facing unplanned pregnancies. Congressman Lamborn has consistently fought this issue even by taking it to the Supreme Court by speaking on behalf of those centers and their tremendous work.  The Congressman spoke on behalf of these centers as oral arguments began in NIFLA v. Beccerra, a case that pits pregnancy care centers against their values.
Foreign Affairs
In the realm of foreign affairs, I am committed to ensuring U.S. national security, promoting free trade, defending our allies, protecting U.S. sovereignty, and fighting for religious freedom.
U.S. National Security
The threats we face as a nation are significant.  They include Iran's terror-sponsorship, hegemonic desires, and ballistic missile and space programs, North Korea's nuclear program Russia's provocations and expansionism, and radical Islamist threats.  As a senior member of the House Armed Services Committee, I am actively tracking these threats and engaging to counter them.
Promoting Free Trade
I led the effort to express concern, with my colleagues, regarding the EU Commission's guidelines that would restrict trade with Israel through boycott, divestment, or sanctions.  These guidelines are part of a politically motivated BDS campaign against Israel that single out Israel for discriminatory treatment.  Such treatment not only unfairly targets Israel, but also undermines decades of efforts to achieve peace between Israel and the Palestinians.
I recently chaired a Member Roundtable discussion on the U.S. – Israel economic partnership and sought information on ways to facilitate this partnership through scientific, technological, healthcare, cyber, space, agricultural and environmental collaboration on research and development.  These efforts improve American quality of life, create jobs, and bolster our economy.
Defending our Allies
The United States has a moral obligation to defend our allies in the Middle East, specifically Israel, and to work with those that are partners with us in fighting the threats we face as a nation.  Many countries are endangered by terrorism and we should seek to strengthen those assisting us and suffering from the attacks carried out against and threatening their citizens.
Protecting U.S. Sovereignty
The increased recognition of international institutions in favor of the historic influence of our national government is concerning.
As co-chairman and founder of the House Sovereignty Caucus, I am committed to protecting both the legal and territorial concept memorialized in the Declaration of Independence and the United States Constitution. I will protect and defend our nation from those who would imperil America by ill-conceived international agreements.
Social & Traditional Values
Our country has been blessed with greatness because it was founded upon sound principles by people of strong moral character. If we as a nation are to continue to progress, we cannot allow our fundamental values to erode. Congressman Lamborn is committed to protecting human life at all stages, defending religious freedom, keeping our children safe, and providing tax incentives to strengthen American families.
Pro-Life Values
Human life begins at fertilization.  Each human life has inherent value and dignity regardless of stage of development, race, age, gender, or ability. Congressman Lamborn's legislative record reflects his unwavering dedication to protecting the sanctity of human life from the unborn to the elderly, the terminally ill, and all whose lives are threatened by euthanasia.
Congressman Lamborn has sponsored or cosponsored over 50 pro-life bills since his election to Congress. In 2011, he cosponsored and voted for the House-passed "No Taxpayer Funding for Abortion Act," a bill that would establish a government-wide prohibition on taxpayer funding for abortion, and the "Protect Life Act," another great piece of legislation that would prohibit funding for abortion or abortion coverage under Obamacare.
A member of the Constitution Caucus, Congressman Lamborn believes that the Constitution specifically protects the freedom of American citizens to openly practice and celebrate religion. The purpose of the Constitution and First Amendment was not to defend government from religion, but rather to defend religion from interference by government.  As an example, in 2011, Congressman Lamborn introduced a Christmas Resolution to recognize and support the importance of the symbols and traditions of Christmas for those who celebrate Christmas and to disapprove of attempts to ban references to Christmas in civic dialogue. Eighty of his colleagues joined him in support of this bipartisan Resolution. He has signed onto numerous pieces of legislation and letters protecting religious freedoms and the rights of conscience.
To further his efforts to protect our core conservative family values, Congressman Lamborn is an active member of the Republican Study Committee, a Congressional organization committed to conservative principles in government.
Additionally, Congressman Lamborn is an active member of the Values Action Team and the Pro-Life Caucus. Through these organizations he legislatively promotes the protection of life, advances pro-family tax bills (such as marriage tax penalty relief, death tax elimination, education savings accounts, adoption tax credit, parent tax credit), fights to improve our education system through school choice, advocates prohibition of Internet child pornography, and seeks harsher penalties for child predators.
Embryonic Stem Cell Research
I cosponsored the Patients First Act, H.R. 877, in the 111th Congress.  The bill would intensify research and human clinical trials using stem cells that are ethically obtained and that show evidence of providing near-term clinical benefit for human patients. Additionally, the legislation would promote the creation of pluripotent stem cell lines without the creation, destruction, or discarding of human embryos.
Stem cell science is not controversial – killing embryos is. Stem cells are derived from many different sources in the human body and most of these are not controversial. Only stem cells that require the destruction of a human embryo are objectionable.
Adult stem cells have successfully treated over 70 diseases and disabilities, compared to zero published successes in human patients with embryonic stem cells.
Religious Liberty
The First Amendment in the Bill of Rights states: "Congress shall make no law respecting an establishment of religion, or prohibiting the free exercise thereof." Despite the cultural shift away from religion, religious organizations and individuals deserve to freely worship and live out their faith.
Colonel Leland Bohannon's Religious Liberty Case with the U.S. Air Force
The U.S. Air Force asked Colonel Bohannon to sign a certificate honoring the same-sex marriage of a retiring Airman. The colonel asked a different commander to sign, citing religious accommodation, which complies with USAF policy. But the Air Force promptly ended his career.
I wrote a letter to the USAF Secretary in support of the colonel's religious liberty and 25 other members of the House signed on. I joined "Washington Watch with Tony Perkins" to discuss this pertinent issue.
Sponsored Values Legislation
H.R. 6086 Protecting Religious Expression Against Censorship and Harrassment (PREACH) Act of 2016
H.R. 3215 – End Trafficking of the Terminated Unborn Act of 2015
H.Res. 790 Expressing support for designation of July 2, as the "National Day of Personal Reflection and Repentance"
H. Res. 564 – Expressing the sense of the House of Representatives that the symbols and traditions of Christmas should be protected for use by those who celebrate Christmas.
Cosponsored Values Legislation
H.R. Prenatal Nondiscrimination Act (PRENDA) of 2016
H.R. 36 – Pain-Capable Unborn Child Protection Act
H.R. 2802 – First Amendment Defense Act
H.R. 3134 – Defund Planned Parenthood Act of 2015
H.R. 3504 – Born-Alive Abortion Survivors Protection Act
H.R. 1425 – Preserve and Protect God in Military Oaths Act of 2015
H.R. 816 – Life at Conception Act
H.R. 453 – Healthy Relationships Act of 2015
H.R. 824 – State Marriage Defense Act of 2015
H.R. 217 – Title X Abortion Provider Prohibition Act