Summary
News
Twitter
About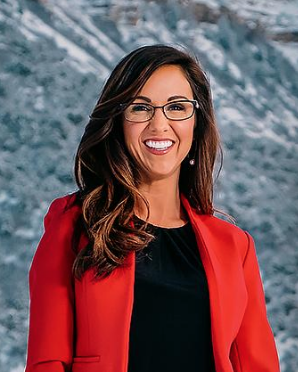 Source: Government page
U.S. Congresswoman Lauren Boebert is serving her first term as the Representative for Colorado's Third Congressional District. A citizen legislator, Congresswoman Boebert had never held public office prior to her 2020 Congressional victory.
She is the Co-Chair of the Congressional Second Amendment Caucus, Vice-Chairman of the Congressional Western Caucus, an Ex-Officio Steering Member on the Republican Study Committee, and an active member of the House Freedom Caucus.
Congresswoman Boebert is 35 years old and is from Rifle, Colorado. She is the first woman, first mother, and youngest ever to represent Colorado's Third District. She is the owner and operator of Shooters Grill, a Western-themed restaurant where staff open-carry.
Representative Boebert was raised in a Democrat household on welfare. Her senior year of high school, she earned an opportunity to serve as an assistant manager at her local McDonald's. She made the difficult decision to drop out of school to help put food on her family's table, realizing she could provide better for herself than the government ever could.
Congresswoman Boebert is active in her church and spent years as a volunteer, counseling and assisting at-risk women at the local jail with reentering society and becoming contributing members in their communities.
She has worked as a natural gas product technician, GIS technician, and pipeline integrity coordinator. Congresswoman Boebert is married to a natural gas drilling foreman who has worked his entire adult life in the oil and gas fields.
Congresswoman Boebert ran because Washington is broken and she was tired of career politicians failing to uphold their promises and serve the people they were supposed to represent.
Representative Boebert is a strong supporter of the Second Amendment, first gaining national notoriety when she confronted then-presidential candidate Beto O'Rourke and told him "hell no, you aren't taking our guns". When 21 Democrats petitioned Nancy Pelosi to stop Congresswoman Boebert from carrying on Capitol Hill, she led the charge to defeat this unconstitutional overreach and earned the support of 82 of her colleagues who joined her in fighting this gun grab.
America needs more bold, conservative, young, female leaders. Rep. Boebert will challenge the status quo and change Washington, not let Washington change her.
Congresswoman Boebert supports legislation that allows for more individual liberty, more freedom and less government intrusion into our daily lives. She will always defend the Constitution and protect our Republic.
Representative Boebert is a fiscal hawk, fighting to eliminate waste, fraud and abuse wherever she can. She is focused on policies that foster an environment for economic growth and job creation.
Congresswoman Boebert is working to secure the border, terminate amnesty policies and build the wall. She is focused on improving care for our nation's veterans and ensuring our men and women in uniform have the resources necessary to safely accomplish their missions.
Congresswoman Boebert believes in empowering We the People. The priorities of the citizens living in Colorado's Third Congressional District are her priorities.
Committees
Committee on Natural Resources, the Subcommittee on Indigenous Peoples of the United States, the Subcommittee on Water, Oceans, and Wildlife, and the Committee on the Budget.
Caucuses
Co-Chair of the Congressional Second Amendment Caucus
House Freedom Caucus
Vice-Chairman of the Congressional Western Caucus
Ex-Officio Steering Member on the Republican Study Committee
Values Action Team
Sponsored Legislation
Offices
Contact
Email:
Web
Government Page, Campaign Site, Wikipedia, Twitter, YouTube, Facebook
Politics
Source: none
Campaign Finance
Voting Record
Search
Wikipedia entry
Issues
Source: Government page
Immigration
Border Security
Safety
Back the Blue
Agriculture